Guides in Childrens rainforest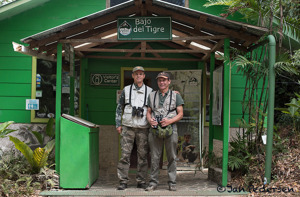 On the second tour for Wild Nature photo turs in Costa Rica. Here in the Childrens Eternal Rainforest in Monteverde that we are supporting financially. Even on this tour we roamed the forest with the excellent guide Eduardo Venegas who has 30 years in the field - guiding tours, as your "humble" tour leader. We had displaying Long-tailed manakins - wonderful and intricate like "birds of paradise".

The Children's Eternal Rainforest (Bosque Eterno de los Niños, in Spanish, or BEN) is the largest private reserve in Costa Rica.
The BEN exists thanks to the help of children and adults all over the world who have taken part in what is known as the Children's Rainforest Movement. This fundraising campaign started in Sweden and the United States of America in 1987, and continued to expand around the world. At present, 44 different countries have contributed to the acquisition and protection of the territories of the BEN.