Zanzibar Röd Colobus, Zanzibar Red Colobus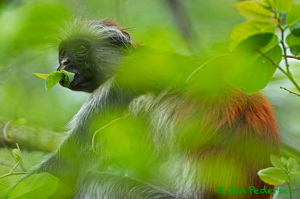 Tack till alla ni som kom på Temaresor-föreläsningarna igår ! Jättetrevligt med SÅ många som har rest med mig och som kom. Här en bild jag inte visade - en Zanzibar Röd Colobus-apa från den senaste fotoresan till Tanzania. Det är en hotad art som enbart finns på Zanzibar. Här hade jag precis lärt ut hur man skapar känsla i bilden genom att använda oskarp förgrund.

Thanks to all of you travelers who attended yesterdays Temaresor-evening and talks. It was so lovely to see so many of my previous clients. Here is an image I didn't show yesterday. A Zanzibar Red Colobus from my last photo-workshop in Tanzania. It is a threatened species occurring only on Zanzibar - and I have just talked about using unsharp foreground to create more dreamlike images and took this image as a demonstration.